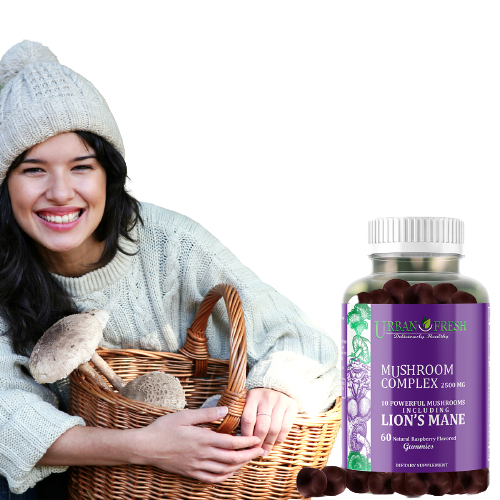 About Us
Welcome To Urban Fresh
Urban Fresh is known for organic dietary supplements that help to boost your energy, enhance your immunity, and improve your mood.
Our supplements are made from extracts of nature's nutritious treasures. Urban Fresh carefully selects effective active ingredients while adhering to ethical standard. Our products are purely organic, pesticide-free, and chemical-free products to meet your health needs.
Add To Cart

100% Natural
Natural products prepared from pure organically grown method.

Plant based supplement
100% pure organic supplements with all the nutrients that are great for your body's nourishment.
Urban Fresh's Mushroom Complex
Benefits of Lion's Mane Mushroom Gummies
Boosts Energy, Stamina and Physical performance.

Improves Memory and Focus.

Fights Fatigue, Reduce irritability & Anxiety.

Protects against age-related cognitive deficiencies.
Testimonial
Clients Success Stories
Frequently Asked Questions
FAQs
Mushrooms contain protein, fiber, vitamins, minerals, and antioxidants. Antioxidants are chemicals that assist the body in eliminating the toxic by-products of metabolism and other bodily processes.
Improves immune system.
Improves memory & focus.
Boost energy, stamina & physical performance.
Reduce anxiety & irritability.
Manage blood sugar.
Protects age-relates cognitive deficiencies.
Fights Inflammation.
YES! Our products are manufactured in a U.S. Food and Drug Administration certified facility.  Certified for Food safety and applied nutrition and also meet Good Manufacturing Practice(GMP).
We recommend taking two gummies per day before 1 PM to get you through the day. Take your vitamins early to benefit from the boost of energy Urban Fresh gummies provides.
Office Address
9595 Wilshire Blvd Suite 900 Beverly Hills, CA 90212
Hours of operation
Monday - Friday : 9am - 6pm