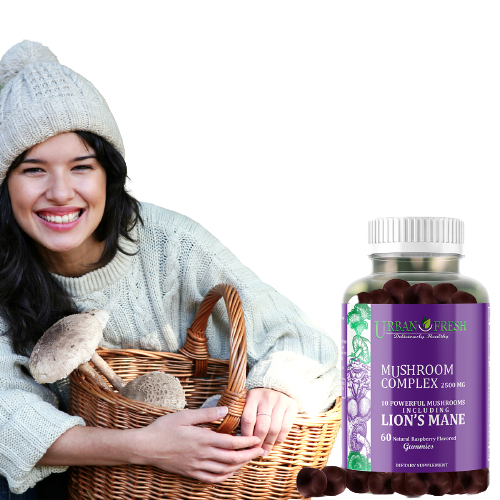 About Us
Welcome To Urban Fresh
Urban Fresh is known for organic dietary supplements that help to boost your energy, enhance your immunity, and improve your mood.
Our supplements are made from extracts of nature's nutritious treasures. Urban Fresh carefully selects effective active ingredients while adhering to ethical standard. Our products are purely organic, pesticide-free, and chemical-free products to meet your health needs.

100% Natural
Natural products to boost your immune system.

Organic products
Organically grown mushrooms which are naturally and carefully selected.
Health benefits
Health benefits of LMM Gummies
Boosts energy, stamina and physical performance.

Improves memory and focus.

Fight fatigue, reduce irritability and anxiety.

Manage blood sugar level.
Testimonial
What Our Clients Says About Us
FAQs
Frequently Asked Quesions
Improves immune system
Boost energy,stamina & physical performance
Protects from age-related cognitive deficiencies
Improve memory and focus
Fights inflammation
Fights fatigue, reduce irritability & anxiety
Manage blood sugar
Repair damaged nerve cells
You can take 2 gummies per day at any time.
We recommend taking two gummies per day before 1 PM to get you through the day. Take your vitamins early to benefit from the boost of energy Urban Fresh gummies provides.
Dietary supplements are substances you might use to add nutrients to your diet or to lower your risk of health problems such as osteoporosis or arthritis. Dietary supplements come in the form of pills, capsules, powders, gel capsules and tablets, extracts, or liquids.
Gluten is a specific type of protein, but one you won't find in meat or eggs. Instead gluten is found primarily in wheat, rye, and barley. Going gluten-free means avoiding these grains. A gluten-free diet is essential for most people with gluten allergies or celiac disease, a condition which causes intestinal damage when gluten is eaten.
Contact Us
For any Queries
Office Address
P.O. Box 5021 Beverly Hills, CA 90209